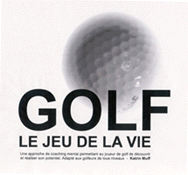 How to order the book "Golf, le jeu de la vie"?
Do you wish to order the book for yourself or to distribute it in your shop or among your friends?
You can order the book "Golf, le jeu de la vie" (french) or "Golf, das Spiel des Lebens" (deutsch) in their brand-new 3rd edition as follows:
Send us an email with your mailing address, and we shall send you a book together with a payment order promptly (Fr. 38.- plus porto).
What is www.golfcoaching.ch?
Katrin Muff (professional coach) has developed the concept of golf coaching in 2004-2005. She launched the first workshop with Guy Martin (Swiss PGA golf pro) for a group of enthusiastic golfers in summer 2005 (See press articles). In 2006, Katrin worked with the Swiss PGA head pros Dimitri Bieri of Golf Club Vuissens and Marc Bromet of Golf Club Signal de Bougy offering a rich palette of workshops and courses across the season. In 2007, she expanded the concept nationwide in collaboration with ASGI. She worked particularly close with Alexandre Lemetyer of the Montreux Golf Club in Aigle.
Since 2005, Katrin has worked with more than 100 golfers across Switzerland on understanding and improving the mental aspects of the game.From beginners to professional tour players, the goals are widely different, however the aim remains the same: to discover and strengthen a player individual personal power and to develop an attitude towards the game (and often also towards life) that facilitate a player to have his or her best performance emerge without effort. Tools, practices, approaches are as diverse as the success stories of the many individuals who seek to enhance their enjoyment and performance in the game. Methods are there to help each individual find his or her best approach and not to preach a truth for all.
As of summer 2008, Katrin has been running Business School Lausanne (part of the Lemania Group of Schools) as their Dean. She continues to spend whatever time is left as a film producer with Oscar-winning Catpics Coproductions in Zurich. She is therefore limiting her Golf Coaching activities to an absolute minimum.

We currently don't foresee offering any golf coaching courses.
What is unique about golf coaching?
What sets GolfCoaching apart is that a professional coach works jointly with a golf pro to help a golfer reach his or her ambitions. While the golf pro provides clear technical advice and instructs on a variety of strategic topics, a professional coach's job is to accompany a client to define, measure and subsequently reach a specific goal in a specified time frame.